Best spy android spyware
Did your child make it to school or home from school? Where are they now? Who are their new friends?
5 Best Free Spy Apps for Android Without Target Phone
Remotely track and control any activity of kids on their mobile devices. Monitor your business mobile phones and protect your intellectual property. Cell phone spy software can enable you to know if any secret information of your company is being shared by someone. Children are surrounded by technology that parents barely understand. Silently monitor all communications, GPS location tracking and user behavior of a smartphone or a computer from any web browser.
Reveal secrets immediately! SPYERA is undetectable cell phone monitoring app and computer monitoring software to protect your family.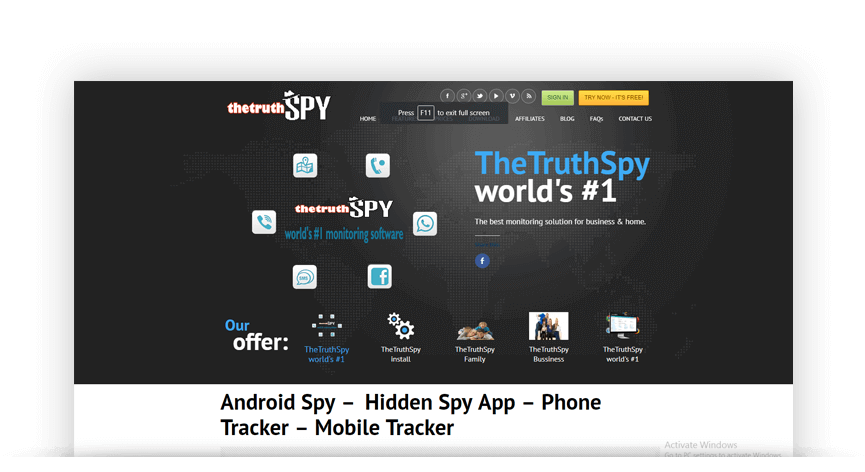 Monitor everything about phone calls. Call history, call recording, live call listening See everything that's being typed on the target device. Records the entire keystroke history. Access and download photos and videos that were taken by the target device camera. Read messages sent and received on chat apps like WhatsApp, Facebook, Snapchat and much more Monitor what web sites are being visited, bandwidth, and login details on those websites.
See a record of all locations the device has been. See version update notices inside your online account, apply updates with just one click. Read direct messages, shares, followers, friends and all activities on social media accounts The spy phone app and computer spy software are totally invisible. It is hidden from the menu and app list. Uploading logs are totally hidden and can be done by any available connection method — Wi-fi, or Network Data.
Control Panel is easy to use and it provides all the captured data in a single report. You can browse categorically in captured data. You can mark as important, print, or export download. You can see the target device current GPS location remotely or historically movements on a map. After installation spy software you simply log in to your web account and you can then use the specific control center. You can set up the software remotely on your web account. Enable or disable any feature, temporary stop spying, or you can uninstall spy software remotely.
There are calls from unusual or withheld numbers? Flag data for convenient analysis. Search for reports or create downloadable reports. You need to have access to the target mobile phone. This can be an Android or an iPhone. You can remotely monitor the target device from your phone or from your computer. Remote installation is not possible! We provide step by step user manual. Each step has a screenshot. You need to login to your web account. You can update, upgrade or uninstall it remotely.
Target tablet is the tablet that you wish to spy on. Installation is easy and takes a few minutes only. The spy tablet app is easy to use. After installation, you just log in to your web account.
The best monitoring solution
The target computer is the computer that you wish to spy on. Using computer monitoring software is easy. After installation, you just need to login to your web account. On your web account, you can check all the activities on the target computer remotely. You are required to notify device owner that device is being monitored. The most powerful and undetectable monitoring software!
Android Spy App. Tablet Spy App.
What's New
Purchase the phone from us. If you want to know how to target androids for spying, then, you need to know which the Best Hidden Spy Apps for Android in Nowadays, people are using android apps in large numbers.
It comes with the best spying and you can try it for free. If you like it and find useful, you can get it on the premium membership. If you just have to follow simple steps to install this app. Read more why to rely on this app? You can monitor text messages, call logs, IM messages, media files, attachments, emails and the current location of your targeted mobile. TheTruthSpy is a very basic android spying app. You can use this app hiding it from others. Their simple features and the person trying to use this app need not have technical knowledge.
You can monitor, browser history, social media history of Facebook and WhatsApp, and track calls. It is one of the best free hidden spy apps. You can monitor your targeted phones from your online account. You can monitor almost all the social media apps with this spying app. You will have access to browser history and record surroundings of your targeted phone.
Best Spy Apps for Android and iPhone 12222.
Top 6 List of the Best Spy Apps!
track a cell phone location now.
free spy software for galaxy s4.
phone spy kenya!
FlexiSPY™ Unique Android Spy App — Reveals Secrets Others Cannot.
best hidden spy app for smartphones!
This is another free app with which you can monitor almost everything on your target phone. From basic monitoring, SMS, call logs to complex monitoring facilities for IM messengers, you can do anything you wish. You can monitor call logs, contacts, IM messages, and text messages.
6 Best Spy Apps for Android & iPhone []: Hidden Phone Trackers
You can also control them remotely as well. This spying app is easy to use and install easily.
how to catch a cheating wife out.
mSpy free cell phone tracker for mobile phone monitoring.
mSpy Free version: Myth or Reality.
The Best Free & Paid Android Spy Apps Of .
Top 10 Hidden Spy Apps for Android in 2018.

If you want an ideal app which can work in stealth, then, Phone Tracker is the best choice that you can choose.